Feel free to write us at
Rev. & Mrs. A. R. Chabot-Stahls
Independent Holiness Mission – Haiti
100 Airport Ave (PAP-1119)
Venice, FL 34285   USA
Or use the Contact Form. Click on the link below.
Info
The Independent Holiness Churches of Canada has missionaries stationed on the Island of Hispaniola ministering mainly in the country of Haiti with outreaches into the Dominican Republic to Haitian people.
The work in Haiti is supervised by Rev. Randall Chabot-Stahls and includes outreaches into the following areas:
Ouest Province
Cabaret, Miragoane, Petionville, Thomassin, Tomb Gateau
Sud Province
Cavaillon, Les Cayes
Artibonite Province
Boukan Toma, Rigaud, St. Michel de Letaille
Sud-Est Province
Cap Rouge, Jacmel
Nord Province
Cap Haitian
Haiti Child Sponsorship Program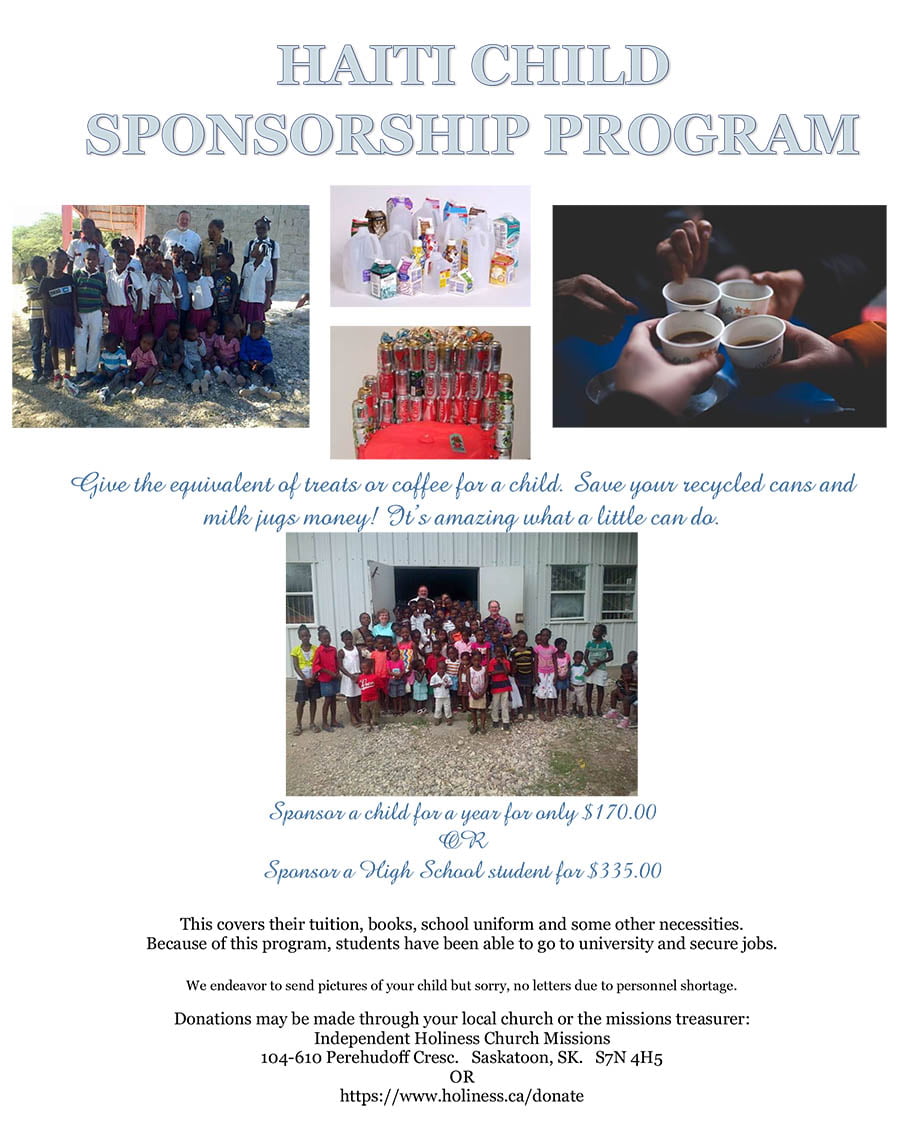 There's never been a time when the need is greater than it is right now! To quote the words of Christ, "John 9:4 I must work the works of him that sent me, while it is day: the night cometh, when no man can work."
Jesus has commissioned us to "Go ye into all the world and preach the gospel to every creature." (Mark 16:15)
You may not be able to go to Haiti, but you can "go" through your financial gift.
The Haiti Child Sponsorship Program is designed to help Haitian children have a future. They are trained to become responsible citizens and leaders for their generation. 
Sponsor a child for a year for only $170.00
OR
Sponsor a High School student for $335.00
This covers their tuition, books, school uniform and some other necessities. Because of this program, students have been able to go to university and secure jobs.
Donations may be made through your local church or the missions treasurer:
Independent Holiness Church Missions
104-610 Perehudoff Cresc. Saskatoon, SK. S7N 4H5
OR online at 
https://www.holiness.ca/donate
________________________
The Independent Holiness Churches is a Registered Charity in Canada.  All gifts over $20 will receive a charitable tax receipt after the end of the calendar year.